Guide: Getting started (for developers)
This guide outlines what you need to know to start developing test cases for use in the test bed. The target audience is a project's test developers, i.e. the technical staff developing the test cases and test services needed to realise the project's conformance testing needs.
This guide does not go into too many details, focusing rather on positioning key concepts so that you know how everything fits together. Once this guide is completed you may use the test bed's developer documentation (check the See also section) to go further into details and support your development.
Note
Test bed versus standalone validators: The focus of this guide is conformance testing on the complete test bed platform through scenario-based test cases. If your needs are rather to create a standalone validator to support your specification(s) you should refer to the XML, RDF, JSON or CSV validation guide as appropriate.
What you will achieve
At the end of this guide you should have an overview of the concepts involved when developing tests, the technologies used and the best approach to organise your work. You should be able to start implementing your first test cases and be more comfortable when going into the more detailed developer documentation.
What you will need
About 30 minutes.

A basic understanding of XML, SOAP web services and web application development (to understand discussed concepts, not for hands-on exercises).
How to complete this guide
The best way to approach this guide is to read through it starting from the Overview section, as it is designed to build up your understanding of different concepts as it progresses. The main concepts involved are addressed in the Topics section which can also be individually looked up as a brief summary per case.
In all sections links are provided to elaborate introduced concepts if you would like to check further details and examples. This additional documentation is the GITB Test Description Language (TDL) reference and the GITB test services documentation, which are summarised by the current guide.
Test bed overview
The test bed is a complete platform consisting of both software and hardware components with the purpose of facilitating testing. The particular focus in this case is conformance and interoperability testing, ensuring that tested systems conform to a specification's requirements and can interoperate consistently with conformant peer systems.
The following diagram illustrates the high-level operation of the test bed, in which the highlighted elements represent the system being tested and its tester: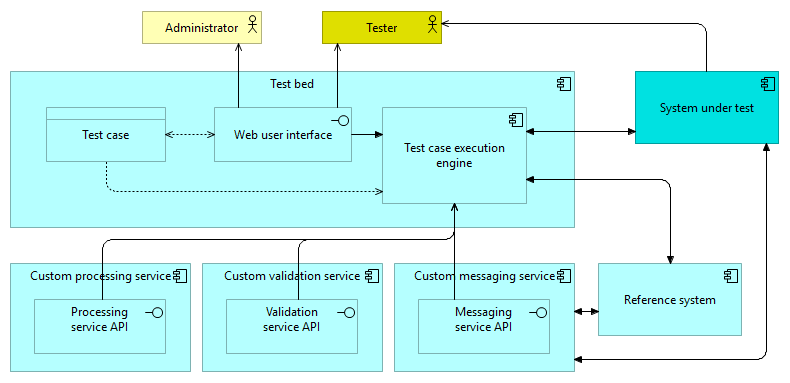 Testing is organised in test suites, collections of one or more test cases, that define the scenarios to test for. Such test cases link to specifications and are assigned to systems under test once these are configured to claim conformance to them. The management of specifications and their test cases, organisations and their users, as well as the execution of tests and subsequent monitoring and reporting, take place through the test bed's web user interface.
Test cases are authored in the GITB Test Description Language (TDL), an XML-based language that allows the definition of the steps to successfully complete and the involved actors, one of which is always realised by the system under test with others either being simulated or realised by other actual systems. Test steps can vary from validation and messaging to arbitrary processing, manipulating and evaluating the test session's state, either per step or by checking the overall session's context. A good example of the latter is ensuring conversational consistency by validating that a received message corresponds to an earlier request.
Each step's operation takes place using the test bed's built-in capabilities but, if needed can delegate to external components. This is where the test bed shines, in its ability to include custom and independent processing, messaging and validation extensions to address missing capabilities or domain-specific needs, by means of exchanges over a common web service API (the GITB service APIs). In using such extensions the test bed acts as an orchestrator of built-in and externally provided capabilities that make it flexible enough to accommodate most conformance testing needs.
Your role as test developer
As a test developer your role is to implement the conformance testing scenarios to realise your project's needs. In doing so the bulk of your work will be split between:
Working in XML to create your test cases using the GITB Test Description Language (TDL).

Working in your programming language of choice to develop test services implementing the GITB service APIs, used by your test cases for project-specific actions not covered by the TDL's built-in capabilities.
These aspects are covered in the guide's topics listed below.
Topics
The topics that follow address the key concepts involved when developing your project's tests.
See also
The key documentation to consider following this guide is the test bed's developer documentation:
If you would like to experiment with developing test cases you may follow the step-by-step tutorials on:
Finally, aside from conformance testing you may be interested in using the test bed's reusable components to define standalone validators for different types of specifications. In that case you are invited to check: